About One ASEAN, One Response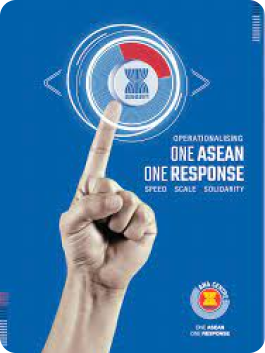 Download
One ASEAN, One Response is an ASEAN declaration responding to disasters as one in the region and outside the region to achieve faster response, mobilise greater resources and establish stronger coordination to ensure ASEAN's collective response to disasters. That is, having as many relevant stakeholders involved to achieve the envisioned speed, scale and solidarity. It is an open and inclusive platform using ASEAN's mechanisms at its core. The term "One ASEAN One Response" was first presented and introduced by the AHA Centre for the 25th ACDM Meeting on 13 October 2014 in Bandar Seri Begawan, Brunei Darussalam, back-to-back with the 2nd Meeting of the JTF-HADR.
The declaration is inspired by and united under One Vision, One Identity and One Caring and Sharing Community, as enunciated in the ASEAN Charter. United by a common desire and collective will to jointly respond to disasters in the ASEAN region, as articulated in the ASEAN Agreement on Disaster Management and Emergency Response (AADMER) as the main regional policy backbone.

One ASEAN One Response will help increase the effectiveness of humanitarian response, reduce the burden of the affected country, and alleviate suffering of the affected population. It will also allow ASEAN's solidarity to be felt and seen by the ASEAN Community in times of disasters. The ability to mobilise the required assets and capacities to collectively respond to disasters with increased speed, scale and solidarity, coordinated by the AHA Centre as the primary ASEAN regional coordinating agency and the Secretary-General of ASEAN as the ASEAN Humanitarian Assistance Coordinator or AHAC.
The Key Principles of One ASEAN One Response
One Policy Framework AADMER
AADMER serves as the main regional policy backbone for coordinated regional response where One ASEAN One Response eminates. The principles of AADMER also guide the operationalisation of One ASEAN One Response: respect for sovereignty, territorial integrity and national unity; respect for affected country's overall direction and control of assistance; promote solidarity and partnership and in accordance with their respective needs, capabilities and situations; and involvement of all stakeholders.
One SOP SASOP
The Standard Operating Procedure for Standby Arrangements and Coordination of Joint Disaster Relief and Emergency Response Operations or SASOP serves as the main standard operating procedure for designation of focal points, earmarking of civilian and military assets and capacities, identification of network of pre-designated areas, mobilisation and demobilisation of assistance, and overall coordination of joint relief efforts including preparedness.
One Response Plan AJDRP
Using SASOP as the basis, the AHA Centre developed the AJDRP to provide the common framework for operationalising One ASEAN One Response. The AJDRP has two key elements: enhanced standby arrangements and consolidated working arrangements so that all of the identified resources can be mobilised quickly.