AADMER Work Programme 2021-2025
About AADMER Work Programme 2021-2025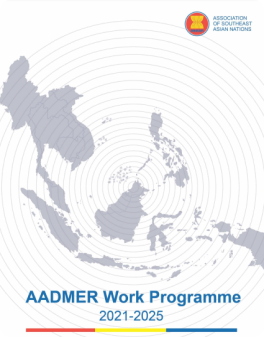 The primary goal of the AADMER Work Programme 2021-2025 M&E system is to track the progress of delivering identified outputs and agreed upon intended outcomes using alogical process that is broken down in five manageable steps – inputs, activities, outputs,outcomes and impact. The new work programme has 117 outputs under 5 PriorityProgrammes. It also aims to achieve 30 outcomes and contribute to the long-term objectives of AADMER, which are to reduce disaster losses and enhance regional cooperation through joint disaster response.
Download
AADMER Work Programme 2021-2025
Vision & Mission
Vision
A region of disaster-resilient nations, mutually assisting and complementing one another, sharing a common bond in minimising adverse effects of disasters in pursuit of safer communities and sustainable development.
Mission
"To enhance and support ASEAN's disaster risk reduction and disaster management capabilities through inter-sectoral cooperation, capacity building, scalable innovation, resource mobilisation, new partnerships, and stronger coordination among ASEAN Member States".
AADMER Work Programme 2021-2025
Implementation Arrangement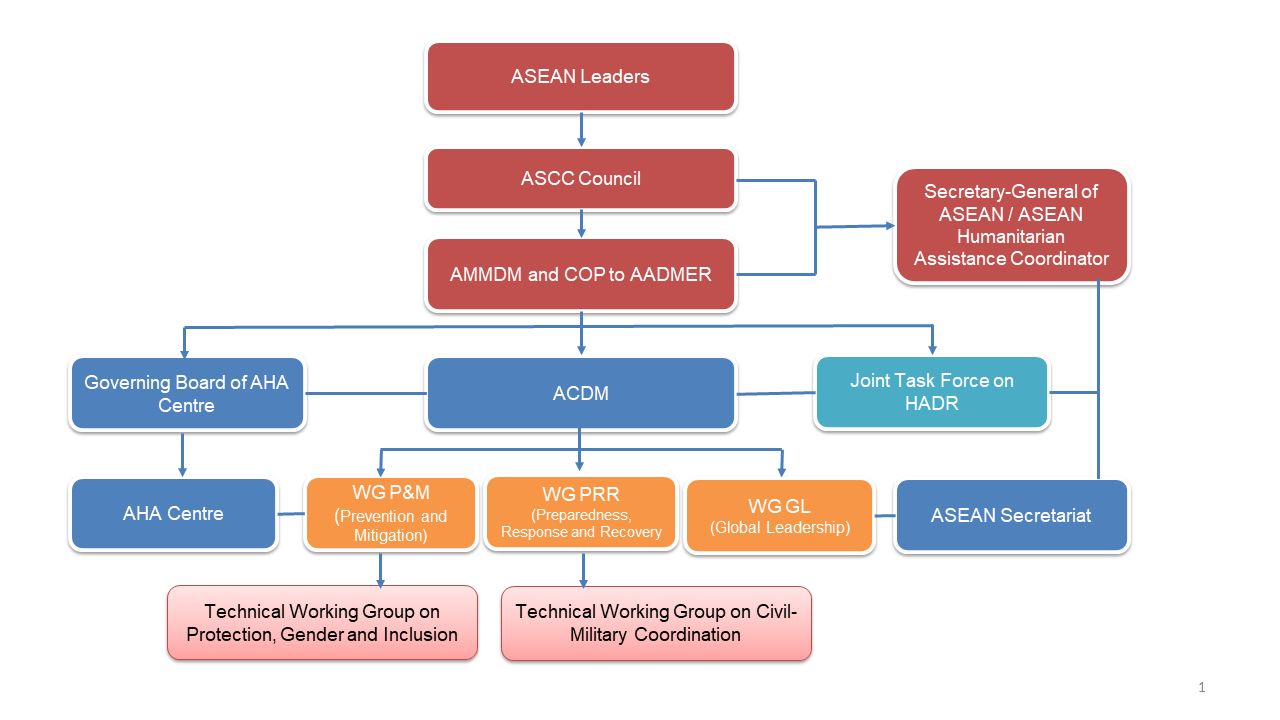 AADMER Work Programme 2021-2025
5 Priority Programmes
Priority Programme 1:
Risk Assessment and Monitoring (RAM)
To evaluate the effectiveness of DRR efforts and make the necessary corrections or adjustment to the DRR plans and strategies.
Priority Programme 2:
Prevention and Mitigation (P&M)
To reduce disaster vulnerability and protect development gains thereby reducing the socio-economic costs to ASEAN communities as well as negative impacts to the natural and built environment.
Priority Programme 3:
Preparedness and Response (P&R)
To enhance disaster preparedness and response through innovation and strengthened coordination and cooperation amongst relevant actors in the region and beyond ASEAN.
Priority Programme 4:
Resilient Recovery (RR)
To share regional responsibility to prepare for and assist in recovery from potential transboundary and mega-disasters in the ASEAN through the development or standby mechanisms and strengthening recovery knowledge and capacities across ASEAN Member States.
Priority Programme 5:
Global Leadership (GL)
ASEAN envisions as a global leader in disaster management by 2025 through:
Demonstrate its leadership by being a knowledge resource for best-practices in DM at the international arena.
Establish international networks and partnerships to exchange expertise, information, technology, among others.
Gain the confidence across all stakeholders.
Build the capacity and resilience of the local communities through the respective member states and NDMOs.
Purpose of AADMER Work Programme
Monitoring & Evaluation System
To support the efficient and effective implementation of the AADMER Work Programme 2021-2025 (AWP), the ASEAN Committee on Disaster Management (ACDM) intends to further strengthen the culture of results-based management for the AWP 2021-2025 through the development of a web-based M&E system.
The increased emphasis on a web-based M&E system in the implementation of the AWP recognises the need for a pragmatic and user-friendly system to collect data and track the delivery of outputs and progress towards intended results. The web-based M&E system hopes to improve the collection of monitoring data to demonstrate programme success better and capture empirical evidence of changes in resilience due to programme interventions.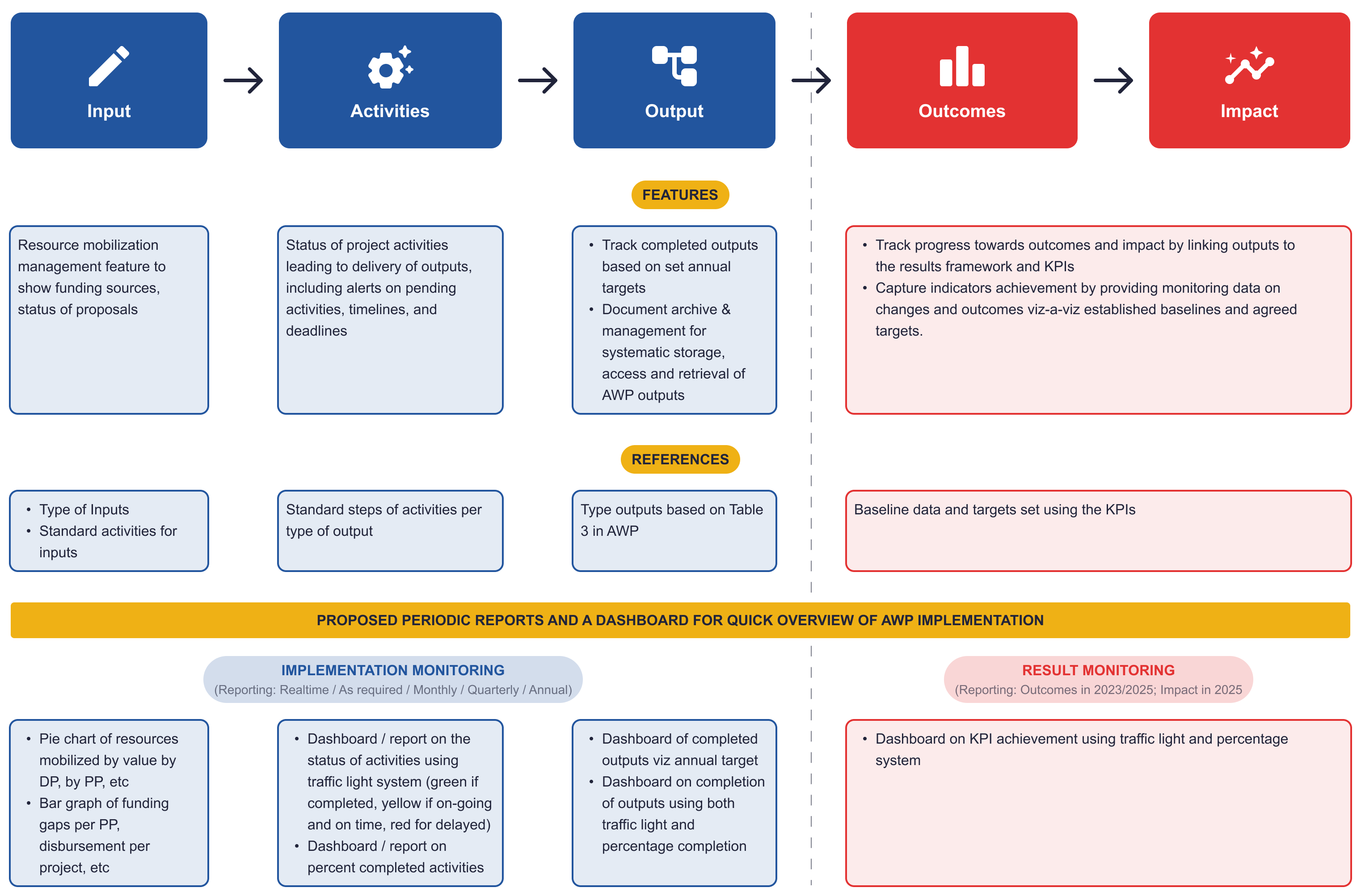 AADMER Work Programme 2021-2025
Monitoring & Evaluation Major Components
Implementation Monitoring
The first component, which covers the first three of five steps in M&E framework, refers to implementation monitoring that is concerned with the operational tracking of the actual implementation the agreed outputs under 5 Priority Programmes. This level covers the mobilisation of inputs and resources, the conduct of activities and the delivery of outputs.
Result Monitoring
The second component, which covers the last two of five steps in the M&E framework, is results monitoring which focuses on the attainment of intended results. Results monitoring provides the evidence on the results achieved under the AADMER Work Programme by 2025. It will provide empirical monitoring data to demonstrate contribution of completed outputs to the achievement of intended outcomes, as well as long-term impact to contribute to AADMER objectives. It will assist in clearly articulating progress made and provide guidance on collecting and documenting the work programme's successes.
AADMER Work Programme 2021-2025
Monitoring & Evaluation
What are the added values of the AWP 2021-2025 Monitoring & Evaluation System?
Where does the data come from?